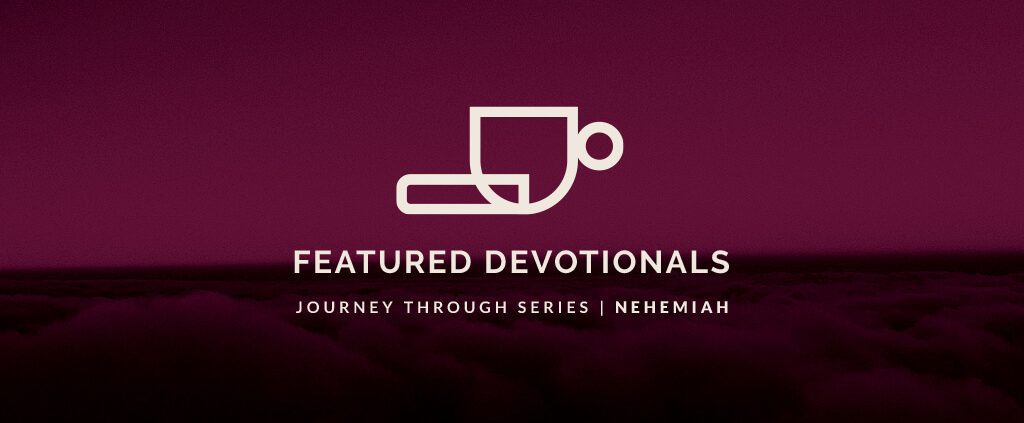 Day 4 – Nehemiah 2:6-10
Nehemiah is relieved to hear the king's positive response. The queen is present, indicating that this might have been a private, more relaxed setting, not a formal court session. Perhaps this helped soften the king's response. The king asks how long Nehemiah will be away in Jerusalem (Nehemiah 2:6). Nehemiah's answer is not recorded here, but we know that he will spend 12 years in the city (5:14; 13:6). The king sends Nehemiah (2:6), perhaps seeing that it is better to have an orderly and peaceful city than a rebellious and chaotic one, and knowing Nehemiah's loyalty and integrity.
Nehemiah then makes further requests. He asks the king for a letter to the governors of the Trans-Euphrates to ensure safe passage. In addition, the king sends a military escort to protect Nehemiah and his group (v. 9). Nehemiah also asks for a letter to the keeper of the king's forest so that he can secure adequate material for the work in Jerusalem. Timber is needed for repairing the wall and doors as well as for Nehemiah's house. Nehemiah has keen foresight: knowing he will be in the city for a long while, he plans ahead. Like Ezra, he knows that ″the gracious hand of my God was on me″ (v. 8; see Ezra 7:28). He knows that God is behind the king's favourable responses. As Christian author John White notes, ″No official can say no when God is saying yes.″14
Nevertheless, Satan is also keenly involved in what is going on. We are briefly introduced to two characters who will create much trouble for Nehemiah and the people of Jerusalem. Sanballat the Horonite and Tobiah the Ammonite, leaders in neighbouring Samaria, are ″very much disturbed that someone had come to promote the welfare of the Israelites″ (v. 10). It is in their interest to have a weak and ineffective Jerusalem as their neighbour. They are instruments in Satan's hand to cause constant irritation to God's people.
Some people lack the faith to make bold requests when it is appropriate. Nehemiah, however, is not one of them. Once he made up his mind about what God was asking him to do, he went about turning his vision into practical reality. William Carey, the father of modern missions, said, ″Expect great things from God; attempt great things for God.″ What he said was based on his deep faith in God, and God used him mightily. We may not be a Nehemiah or a Carey, but we can apply the same principles in our lives.
14 John White, Excellence in Leadership: The Pattern of Nehemiah (Leicester: Inter-Varsity Press, 1986), 34.
Think Through:
What lessons can we learn from the way Nehemiah approached the king and made his requests? Is it true that ″no official can say no when God is saying yes″?

Nehemiah had keen foresight, as evidenced in his requests. What is the relationship between faith and foresight? What happens when they are disconnected?
Taken from Journey Through Ezra & Nehemiah: 60 Devotional Insights by Robert M. Solomon.
https://ymi.today/wp-content/uploads/2021/09/Featured-Devotionals_Nehemiah_4.jpg
613
1024
Robert Solomon
https://ymi.today/wp-content/uploads/2017/05/ymi-logo-black-3.png
Robert Solomon
2021-09-09 00:00:00
2021-09-01 14:32:06
Faith and Foresight